What is a chimney cap, and why do I need one?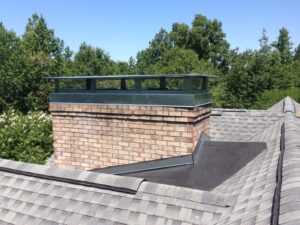 A chimney cap consists of a case, a screen, and a lid. It's not only decorative, but it protects your chimney and fireplace from rain, leak debris, and intruding animals.
Rain can damage the stainless steel liner and damper in your chimney. Water can soak the inside and produce mold, as well as erode the mortar. Deterioration could cause the chimney to need replacement.  Thus, a properly built and installed cap will protect against water damage, and help save you from costly repairs in the future.
Furthermore, chimney caps help prevent the invasion of unwanted animals. An open chimney is like an open window to a critter, and without a cap, the critter may decide to take up residence within your fireplace. Don't wait until you hear scratching to cap your chimney!
Is your chimney leaking?
When the roof flashing around a chimney is good but leaks are still an issue, the top and sides of the chimney may need attention. A professionally installed, structurally sound chimney cap is vital to preventing the intrusion of water into your chimney.  Here at Bryant Roofing and Repairs, we offer custom fabrication of chimney caps by seasoned experts, as well as flashing.  We solder our caps together the old-fashioned way, resulting in a stronger, more attractive cap for your home.  Then we provide expert installation of your cap onto the chimney.
Call us today at 770-267-8600 for your free estimate!
CONTRACTORS, ROOFERS, BUILDERS!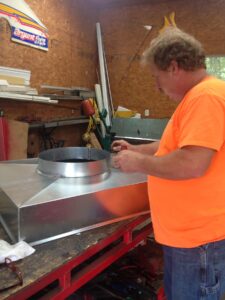 Do you need a high-quality chimney or chase cap for one of your jobs?  We can help!
We offer full masonry chimney caps or pre-fab chase caps, custom-built to your specifications with your measurements.  Conveniently located in Monroe, GA for easy pickup, we are also close to Gwinnett, Barrow, and Athens area.
Our caps are made with 24 gauge G90 galvanized, soldered not caulked.  Copper and other materials are available as well.  Quick turn-around.  Call for pricing.